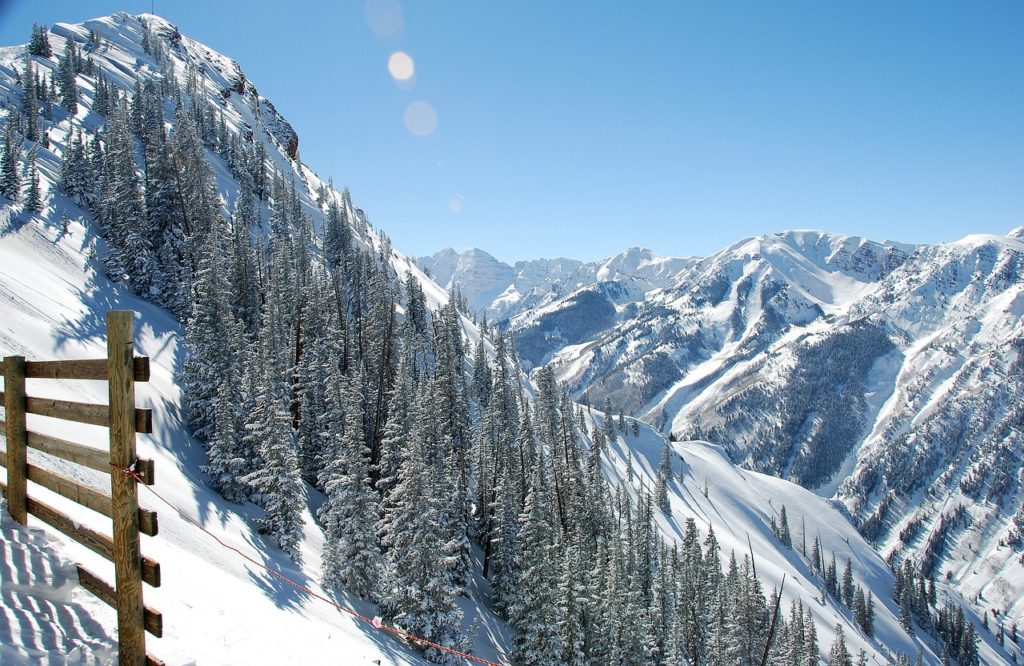 Ah, skiing! There is nothing quite like the cold nip of winter air as you speed down powdery white hills and mountainsides, and you're bound to find fewer places perfect for this exciting pastime than Aspen, Colorado! While he loves Deer Valley, Clark Weeks also enjoys skiing at Aspen.
Aspen – The Ski Resort Town
Aspen is a hodgepodge of ski resorts located in the Rocky Mountains of Colorado. It is situated in the heart of the White River National Forest and surrounded by the peaks of the Elk Mountains. It is popular for its world-class restaurants and boutiques, but even more famed for its mountains. The mountains – Aspen Mountain, Buttermilk Mountain, Aspen Highlands, and Snowmass – make up the Aspen/Snowmass Complex – an area of over 5, 500 acres of skiable land. These "Power of Four" provide a ton of ski experience from the novice to the experts. These mountains are connected by a free shuttle system so moving from one mountain to the other makes it easy.
Skiing the "Power of Four"
The Ajax
The Aspen Mountain, known as Ajax among the locals, got its name from the aspen trees growing abundantly in the area. This mountain rises up with an elevation of 11, 212 ft. (3, 417 m) just outside and above the town of Aspen. Although small in comparison to the other mountains, it is well-known for its slopes and bumps and moguls that drop right into the town, and stunning sights of the Elk Mountains. Boasting its combination of double-black and gladed runs, it's a prime destination that mogul skiers don't want to miss.
If you plan to ski on the Ajax, take note that this mountain has no beginner runs. Sixty-five percent of its trails are for the advanced or experts.
Buttermilk – A Family's Mountain
This ski area is easy-going for families and, novice and intermediate skiers and snowboarders. In fact, it has been considered as one of the best North American mountains to practice skiing. One of the features of Buttermilk is the Fort Frog, a children's hangout. The Hideout Children's Center is located here where young skiers can learn how to ski. Do take note that this facility is exclusive for Ski and Snowboarding programs.
Buttermilk Mountain is best known for hosting the Winter X Games, where the best action sports on snow happen.
Aspen Highlands
The slopes of the Aspen Highlands are considered for expert skiers only. Its upper mountain terrain – Steeplechase, Olympic Bowl, and Highland Bowl – have thrilling slopes to satisfy seasoned skiers. Most of the terrain can be reached by hiking from the top of Loge Peak.
The Aspen Highlands is home to the Highland Bowl – its crown jewel – which gives you access from the summit. At the summit, you can take a snowy selfie at the famous Maroon Bells, the most photographed peaks in the continent.
Snowmass
The largest of the four Aspen Mountains, Snowmass is another ski resort located near the Snowmass Village and famous for its ski-in ski-out lodgings and slope side attractions. It contains several terrain parks, mogul runs, a wide-ranging extreme skiing ground, and gladed terrain. This ski area is good for both novices and experts. The lower part of the mountain is good for beginners and intermediates while there are plenty of options for seasoned skiers and snowboarders up on the High Alpine and Cirque lifts.
With an area of 3, 128 acres, Snowmass is so large that you can't cover the same ground twice!
Other Things to do in Aspen
Besides skiing, tourists can also enjoy a few other activities in Aspen like snowshoeing, ice skating, cross-country skiing, fly-fishing, and even hot-air ballooning!
While he really enjoys Deer Valley, Clark Weeks also enjoys skiing in Aspen and we hope you give it a try and love it too. Click here for more skiing info.